---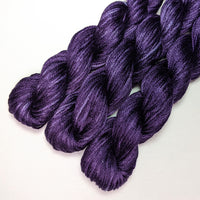 Regal
Regal is a variegated solid colorway in a deep, rich purple.
**Please note that purples can sometimes trend more towards the blue, and other times towards the red, and the color base of this colorway is especially variable. If you are working on a large project you'll want to make sure to get enough as every batch of this color can vary widely.
Flosses are all hand-dyed and each piece is unique; no two will ever look the same. We use the same mix every time, but please note that the color can still vary slightly from batch to batch, and your computer/phone screen may show the colors slightly different than they appear in person. 
Floss is made to order, so orders may take between 6-8 weeks to ship.