---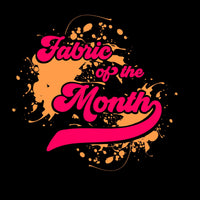 FABRIC OF THE MONTH
What it is: This is your chance at a surprise hand-dyed fabric in the mailbox each month. You'll get to choose the count, type of fabric, and size you'd like (1/4 yard or 1/2 yard), and we'll surprise you with a custom-created colorway for that month. It may be neutral, it may be 3 tones, and it'll depend on what way the art wants to flow for that month.

Available on 14, 16, and 18 Ct Aida, 28 or 32 Ct Lugana, all in standard fabric or Opalescent, 20 Ct Aida, 28, 32, 36, 40 Ct Linens.
Fabrics are all hand dyed and each piece is unique; no two will ever look the same. I use the same mix every time, but please note that the color can still vary slightly from batch to batch, and your computer/phone screen may show the colors slightly different than they appear in person. 

Each piece of fabric is serged before being dyed. The cut size is before dyeing, and they can shrink in the dyeing process. However, please keep in mind, you do not lose any stitches in that process. So the only difference between the 18x21 white piece and the 18x21 hand-dyed piece that may have shrunk is the finished size of the project. For this reason it's always best to start in the middle on a hand-dyed piece.
Approximate Fabric Sizes:
Quarter: Aida = 18x28, Lugana and Linen = 18x26
Half: Aida = 28x36, Lugana and Linen = 26x36
Purchases made by the 10th of the month will be shipped during that calendar month Purchases made after the 10th will ship at the end of the following calendar month. You may cancel once your subscription interval is past (so for a monthly subscription you can cancel after the month is over, for a 4 month subscription you can cancel after 4 months, etc.) Prices shown do NOT include shipping. That will be calculated at checkout for the duration of the subscription interval you choose. Your subscription will be automatically renewed at the end of your chosen interval unless cancelled.