---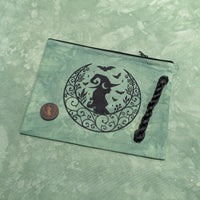 Meet Artemis, the third witch in our 6 part series that will be dropping sporadically throughout the next year. 
Each Witch is unique but complementary in a similar moon design, and each will feature a different unique colorway. These packs are limited in number by the amount of bags we had printed, and we have no current plans to order more. So get yours before they sell out!
Included in the Artemis Witch (3 of 6) Project Pack:
A hand-dyed canvas zippered pouch in a mid-tone green (approx. 11" x 9") featuring a screen print of Artemis the Witch*
25 yards of specially hand-dyed floss featuring shades of green peeking out through black overdye*
A hand-dyed mid-tone green fabric approximately 13" x 13" (as always, the fabric can shrink in the dyeing process)* - simply choose your fabric preference from the drop-down menu
A wooden needle minder etched with the Artemis witch design*
You'll be emailed the PDF file of the witch design which is 126x126 stitches.
*These items are exclusive to the Artemis Witch pack at this time.

The packaging on our Packs are very simple, by a vote of our customers. We don't give a lot of paper, confetti, or a big box as it's just more trash the planet doesn't need. The items in your pack are special, but the packaging will remain a simple poly bag.
Fabrics and flosses are all hand dyed and each piece is unique; no two will ever look the same. I use the same mix every time, but please note that the color can still vary slightly from batch to batch, and your computer/phone screen may show the colors slightly different than they appear in person. 
Each piece of fabric is serged before being dyed. The cut size is before dyeing, and they can shrink in the dyeing process. However, please keep in mind, you do not lose any stitches in that process. So the only difference between the 18x21 white piece and the 18x21 hand-dyed piece that may have shrunk is the finished size of the project. For this reason, it's always best to start in the middle on a hand-dyed piece.
This artwork is officially licensed for commercial use.
This pack is made to order, so orders may take between 10-12 weeks to ship. (This is extreme, and we hope to ship much sooner, but cannot guarantee it at this time).